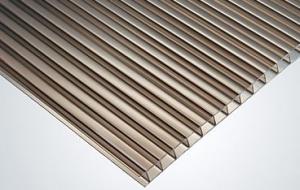 | | |
| --- | --- |
| | MouseOver to Zoom. |
Bronze Polycarbonate Twinwall
Twinwall Polycarbonate Sheet

3 stars based on 4 Review(s)
Get Your Online Pricing:
Tips for measuring »

How To Measure |

Close it

Measure Twice, Cut Once

Once we cut a stock size piece, we can't ever sell it as full size piece again. All cuts are nominal. So, PLEASE MEASURE CAREFULLY, and DOUBLE CHECK YOUR MEASUREMENTS BEFORE YOU ORDER. The old adage is espcially true here: measure twice, cut once. WE do it before we cut your piece, and YOU should do it before you order.

Using a measuring tape

Here's a little refresher on how to use a measure tape. First, let's talk about the increments. We'll assume that you're using the English or Imperial system of feet and inches. Extend your tape measure several inches and find the large 1 and 2. On most English measuring tape, the smallest increment is 1/16 of an inch. This means that there are 16 equally spaced marks between 1 and 2 inches on the tape. When measuring, count how many of these marks you are beyond the nearest inch. If your piece measures 7 inches and other 8 marks, that is 8/16 (1/2) for a total of 7-1/2".Let's say you were taking your second measurement (see below) and this time you counted 9 marks past the 7 inch mark. That means your piece is actually 7-9/16" long.

The clip on the end of my measuring tape slides back and forth. Is it broken?

No! The sliding clip on the end of the tape is designed for two different types of measurements. When you take an outside measurement (where you hand the clip of the tape over an edge), the clip slides out a little to account for the thickness. When you take an inside measurement (push the clip up against a surface), the clip slides in, again accounting for its thickness. The measuring tape self-adjusts so, either way, you get an accurate measurement.
POLZE__SW - Overview



Polycarbonate twinwall is designed for an endless range of glazing and roofing applications, for extreme weather conditions, and is known for its light-transmitting and reflective qualities. They are attractive, durable, easy to install, and protect the people and property inside a structure from the elements and from damaging UV radiation. Perfect for hurricane roof and window protection, greenhouses, and architectural roofing, windows, and installations.

Note: We recommend only using Interstate Plastics' Aluminum Vent Tape with twinwall and mult-wall polycarbonate. 6mm (.236") and 8mm (.315") wall should be used with 1"x150' tape. 10mm (.394") and 16mm (.630) wall should be used with 1.5"x150' tape.

Planning:

In good architectural planning elements of the environment in which the structure will be placed must be taken into account. In outstanding architectural planning, the environment becomes an integral part of the structure.

Creativity:

Twinwall Polycarbonate sheeting harnesses nature to create the interior atmosphere by enlisting nature's qualities for the creative process. Realizing that the creative process in building depends on the ability to adapt the materials for the design concept, Polycarbonate Twinwall offers architects a raw material that is like putty in their hands – almost any idea, however crazy it may be, can be implemented.

Uniqueness:

The unique advantage of Polycarbonate Twinwall sheeting allows the architect to create a sense of openness and flow while maintaining stability and strength for years to come.

Color::

These sheets come in clear, ice white, bronze, special colors by request, and in various thicknesses.



Features
• Weather Resistance

• Virtually unbreakable with extreme impact resistance

• High dielectric strength

• Easily machinable

• Transparent up to 2" thick with great light transmission

• Wide temperature operating range (-40F to 280F)

• Lightweight: 1/6th the weight of glass and 1/3rd the weight of Acrylic.


| | | | |
| --- | --- | --- | --- |
| | | | |