Autoclavable Bags Aid In Disposal of Hazardous Waste In Research Labs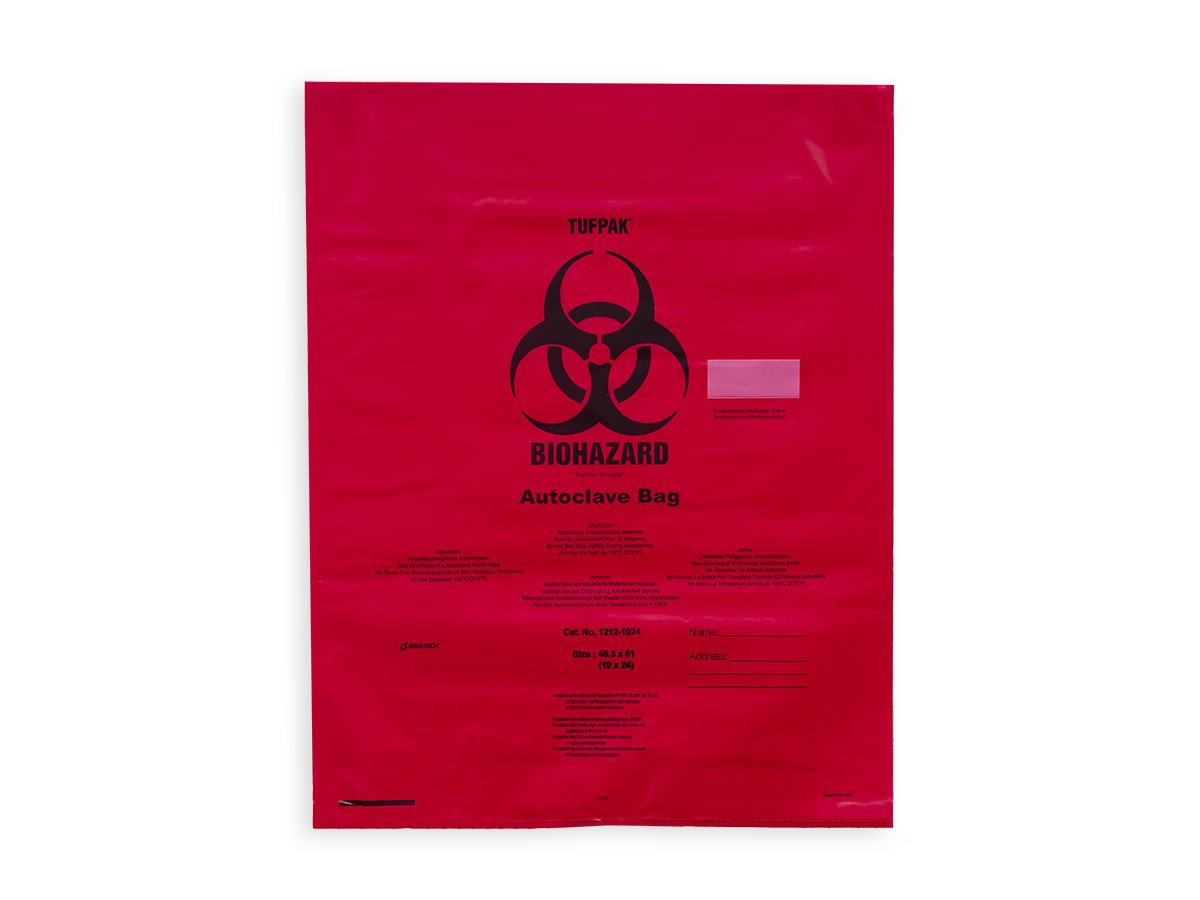 BSL (BioSafety Level) laboratories handle potentially dangerous materials and organisms on a daily basis. Rated on a 1 to 4 scale, the higher the BSL, the more dangerous the microbes and materials the lab handles. In BSL-3 and BSL-4 labs, ways to safely neutralize or dispose of hazardous waste are essential. Interstate Advanced Materials now offers red polypropylene autoclavable biohazard bags specifically designed to handle hazardous materials in BSL-3 and 4 laboratories as a solution for disposing of hazardous waste.
Shop Autoclavable Biohazard Bags »
Autoclavable biohazard bags are made from thin red polypropylene and are marked with a biohazard symbol. They exceed ASTM D1709 and ASTM D1922 tear and dart drop tests for impact and tear resistance. Autoclavable bags have a built-in temperature indicator patch that will activate when exposed to pressure and steam and display a message indicating that the bag has undergone autoclaving. Autoclavable waste bags are safe to incinerate if autoclaving is not available.
Autoclavable hazardous waste bags meet many of the most demanding regulatory specifications worldwide in order to ensure lab safety. These specifications include the following:
Federal DOT Regulation 49 CFR 173.197 for HazMat handling and markings
California Health and Safety Code #117630
Florida Dept. of Health Safety Code #64E-16.004-2C
New York DEC Rule 6NYCRR Part 365-1.2(b)(13)(i)
CDC Procedural Guidance on the Proper Packaging of Highly Infectious Waste
EU Hazardous Waste Directive
International WHO directive for Safe Management of Healthcare Waste for Autoclaving and/or Incineration
Though they are designed for use in BSL-3 and BSL-4 research labs, autoclavable biohazard bags may also be used in the biotech, pharmaceutical, healthcare, medical research, government, and OEM part manufacturing industries to handle hazardous materials as necessary.
Autoclavable hazardous waste bags are available from Interstate Advanced Materials in nine different sizes. Save 30%+ on autoclavable biohazard bags and other materials with an Interstate Advanced Materials membership. To learn more about how autoclavable bags can help safely neutralize and dispose of hazardous materials, call the material experts at (800) 742-3444.
Interstate Advanced Materials is a full-line distributor of sheet, rod, tube, bar, film, profile, and accessories, tools, and care products. With 10 locations nationwide and an online sales and support team, Interstate Advanced Materials provides full sheets and pallets, simple cut-to-size service, and complex CNC manufacturing. Interstate Advanced Materials is known for its reputation of selling high-quality products, providing excellent customer service, and superior technical support. Our products and services are available using the safe, secure, and convenient purchasing system on the Interstate Advanced Materials website. For instant help, we're always a phone call away at (800) 742-3444.
---