Discs For Dental Milling Machines & Material Solutions Ahead of AAID 2023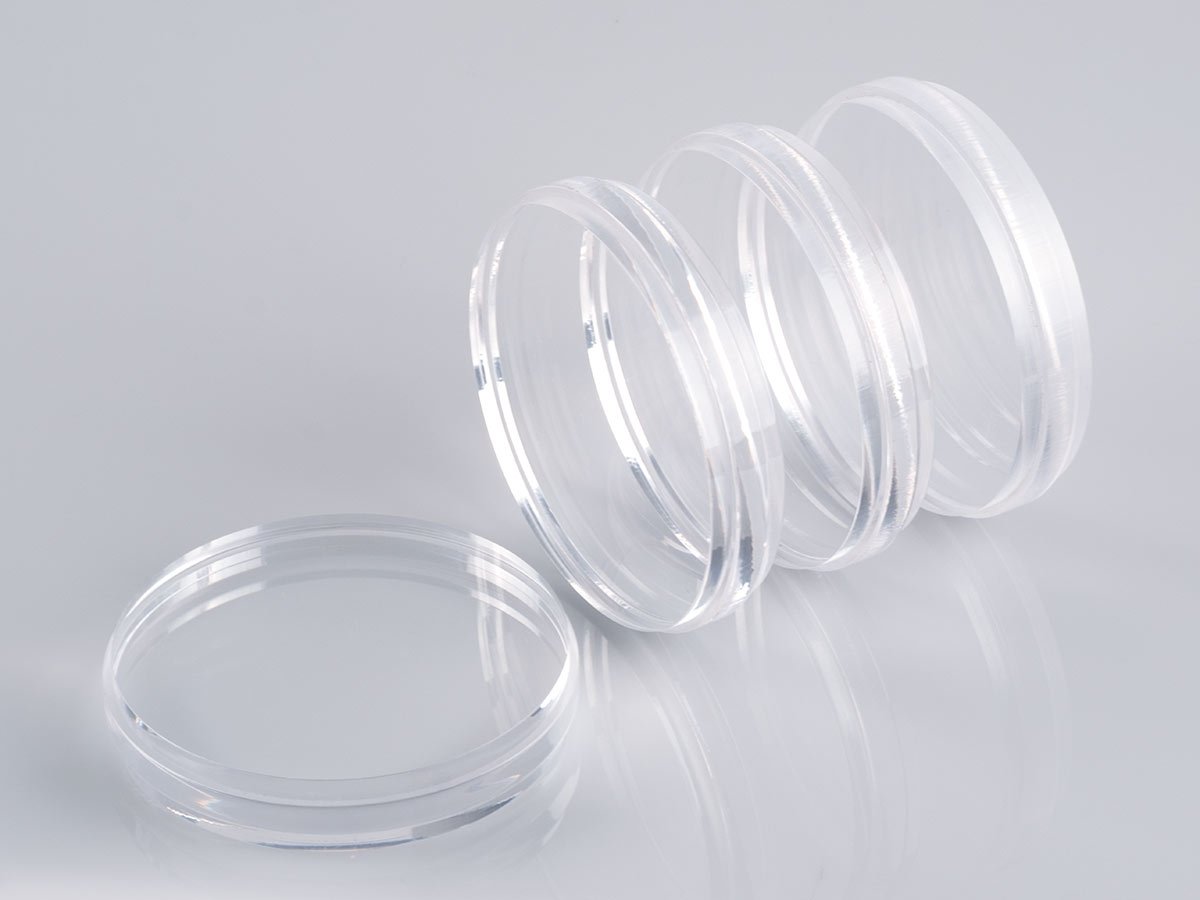 Interstate Advanced Materials spotlights specialized material solutions in the lead-up to the 2023 AAID Annual Conference. Hosted by the American Academy of Implant Dentistry (AAID), the annual event is hosted in Las Vegas, Nevada, from November 1st to November 4th. The conference offers dental professionals a platform to explore cutting-edge products, connect with other industry experts, and participate in educational workshops.
Shop Dental Equipment Materials »
Interstate Advanced Materials provides the dental industry with specialized solutions, including PMMA discs specially designed for dental milling machines. Clear PMMA (or acrylic) discs offer excellent impact resistance, FDA compliance, and biocompatibility, making them the perfect choice for occlusal splints, dentures, and clear retainers. PMMA discs feature flat shouldered surfaces on both sides, ensuring consistent thickness throughout the milling process. When used with a dental milling machine, PMMA discs enable efficient and precise production of dental restoration devices that accurately match a patient's mouth impressions or digital scans.
MediGrade® HDPE sheets provide antimicrobial protection for dental office workstations, countertops, cabinets, and other areas requiring high sanitation. Unlike other materials that rely on protective surface coatings that will eventually wear out, MediGrade® features built-in antimicrobial properties that last its entire lifespan. Its zinc-based protection won't leach toxins into the environment like other antimicrobial agents like silver or triclosan. MediGrade® defends against fungi, odor- and stain-causing bacteria, and algae and will not rust, rot, or delaminate. It has excellent resistance to chemicals, allowing for easy sanitization.
Natural PEEK sheet is a high performance material solution supplied by Interstate Advanced Materials. PEEK's outstanding biocompatibility ensures it will not trigger adverse reactions or allergies when used in dental applications. Its resistance to chemicals, corrosion, and moisture enhances long-term structural stability for dental implants, temporary abutments, prosthetic frameworks, and other intraoral devices. PEEK is radiolucent, meaning devices made from it will not interfere with X-ray or imaging procedures and won't obstruct the view of surrounding tissues.
Interstate Advanced Materials looks forward to working with dental professionals ahead of the 2023 AAID Annual Conference to help find solutions for the industry's most pressing challenges. The company remains committed to helping dental professionals and other related specialists deepen their knowledge about the benefits offered by plastics and other composite materials.
Interstate Advanced Materials is a full-line distributor of sheet, rod, tube, bar, film, profile, and accessories, tools, and care products. With 10 locations nationwide and an online sales and support team, Interstate Advanced Materials provides full sheets and pallets, simple cut-to-size service, and complex CNC manufacturing. Interstate Advanced Materials is known for its reputation of selling high-quality products, providing excellent customer service, and superior technical support. Our products and services are available using the safe, secure, and convenient purchasing system on the Interstate Advanced Materials website. For instant help, we're always a phone call away at (800) 742-3444.
---