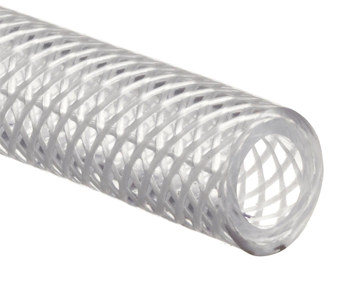 Equivalent to Tygon® B-44-4X-IB


Handles four times the pressure of non-reinforced tubing


Flexible alternative to rigid piping systems


Compatible with virtually all non-solvent chemicals


Not affected by reducing and oxidizing agents


Easy to clean: Smooth inner bore resists bacteria growth


Meets FDA, 3-A and NSF criteria for contact with food and beverage products


Clear material permits visual flow monitoring and inspection


Batch Consistency
EXCELON BRAID PRESSURE TUBING
Reinforced, braided hose.
888-665-0264 - CALL THIS NUMBER FOR SPECIAL PRICING!
Excelon Braid Pressure Tubing features open mesh polyester braiding between clear PVC walls to add superior strength while allowing for easy visual flow monitoring and maintaining flexibility. The smooth, inner bore will not trap particles that can promote bacteria growth.
This tubing is equivalent to Tygon® B-44-4X-IB and handles four times the pressure of non-reinforced tubing. It is a flexible alternative to rigid piping systems, and compatible with virtually all non-solvent chemicals. Excelon Braid Pressure tubing is not affected by reducing and oxidizing agents, and is very easy to clean: the smooth inner bore resists bacteria growth.
Made of non-toxic, FDA-sanctioned material, Excelon Braid Pressure Tubing does not affect the taste or smell of transfer fluids and gases and is suitable for use in a variety of applications including medical, food, and beverage. This tubing meets FDA, 3-A and NSF criteria.
Physical Properties*
Properties
Excel Bev
Hardness, Shore A
68
Specific Gravity
1.20
Tensile Strength, psi
2000
Elongation at Break, %
400
Max. Operating Temp., °F
165
Brittle Temperature, °F
-40
*Values listed are typical and are meant only as a guide to aid in design. Field testing should be performed to find the actual values for your application.