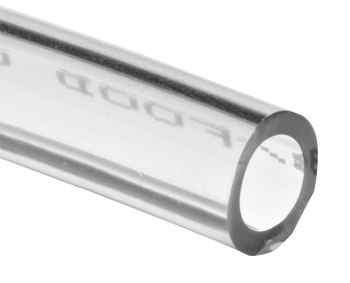 Equivalent to Tygon® B-44-4X


Chemical and bacterial resistant


Non-toxic, odor-free, taste-free


Crystal clear for visual inspection and flow monitoring


Use with various clamps and barbed style fittings


Lightweight and easy to handle


Meets FDA, 3-A and NSF criteria for contact with food and beverage products


For applications requiring higher working pressures, refer to Excelon braided pressure tube


Batch Consistency
EXCELON FOOD TUBING
Smooth, non-porous, flexible tubing
888-643-5019 - CALL THIS NUMBER FOR SPECIAL PRICING!
Excelon Food, Milk and Dairy Tubing is non-toxic, taste-free, and odor-free, and meets all applicable regulatory standards for use in food, dairy, and milk applications. Producers of food, milk and dairy products require the dependable performance of Excelon Tubing in countless filling, draining, transfer and processing applications.
This tubing is equivalent to Tygon® B-44-4X is crystal clear for visual inspection and flow monitoring. Lightweight and easy to handle, use Excelon tubing with various clamps and barbed style fittings.
Smooth, non-porous and flexible, Excelon Food Tubing promotes a sanitary fluid path by maintaining and interior free of trapped particles, and minimizing potential for bacterial growth. In addition, it is resistant to harsh alkaline cleaners and is not affected by most commonly used sanitizers.
Physical Properties*
Properties
Excel Bev
Hardness, Shore A
65
Specific Gravity
1.18
Tensile Strength, psi
2030
Elongation at Break, %
390
Max. Operating Temp., °F
165
Brittle Temperature, °F
-47
*Values listed are typical and are meant only as a guide to aid in design. Field testing should be performed to find the actual values for your application.