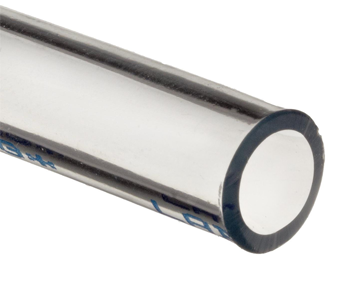 Equivalent to Tygon® R-3603

Withstands high heat and pressure, up to 27" Hg at 140°F and 29.9" Hg at room temperature

Meets FDA CFR 31, Part 175.300 criteria

Well suited for use in paint, pigment, and soap dispensing applications

Withstands autoclaving and repeated gamma sterilization

Batch Consistency
EXCELON LABORATORY & VACUUM TUBING
Clear, versatile high-performance tubing.
888-665-0232 - CALL THIS NUMBER FOR SPECIAL PRICING!
Excelon Laboratory and Vacuum Tubing offers superior strength and versatility at a lower cost than alternative products. This crystal clear, highly flexible tubing is a reliable choice for the transfer of liquids and gases in most of today's laboratory applications.
This tubing is equivalent to Tygon® R-3603 and withstands high heat and pressure, up to 27" Hg at 140°F and 29.9" Hg at room temperature. Excelon Laboratory and Vacuum tubing meets FDA CFR 31, Part 175.300 criteria and is well suited for use in paint, pigment, and soap dispensing applications. It withstands autoclaving and repeated gamma sterilization.
Ideal for use in peristaltic pumps and medical devices, Excelon Laboratory and Vacuum tubing is an excellent alternative to latex and silicone tubing. The inner bore is as smooth as glass and prevents build up, making cleanup and changeovers simple and problem free.
Physical Properties*
Properties
Excel Bev
Hardness, Shore A
55
Specific Gravity
1.18
Tensile Strength, psi
1650
Elongation at Break, %
450
Max. Operating Temp., °F
165
Brittle Temperature, °F
-58
*Values listed are typical and are meant only as a guide to aid in design. Field testing should be performed to find the actual values for your application.