Nudo FiberLite FRP Overview
Nudo fiberglass reinforced plastic panels are popularly used in bathrooms and hallways, in kitchens and other food-processing and food-preparation areas, and in water and wastewater treatment plants. It is resistant to chemical exposure, impact, moisture, scratching, shattering, and thermal shock.
FiberLite cleans easily with steam, high-pressure sprayers, or soap and water and is USDA and Agriculture Canada certified. It is available with either a Class A or Class C fire rating and meets ASTM D-5319 standard specification for glass-fiber reinforced polyester wall and ceiling panels.
FiberLite is highly customizable with extensive color and size options and either a smooth or embossed texture. Interstate Plastics also offers color-matched connecting profiles (caps, corners, covers, and division bars)for easy installation.
FiberLite FRP panels (without pre-laminated substrate) should only be installed over a sold wall surfaces (wood, drywall, etc.) It should NOT be applied directly to wood or metal studs. Wall surfaces should be clean, flat, dry and smooth. Uneven wall surfaces should be corrected for best results. FiberLite FRP may form and contour to wall surface that are not prepared prior to installation. Following adhesive manufacturers' application guidelines when choosing proper adhesives for the particular substrate you are bonding to is highly recommended.
Nudo FiberLite FRP Features
Durable, shatter resistant surface that resists scratches
100% moisture resistant
USDA and Agriculture Canada certified
Thermal shock and chemical resistant
Cleans easily with steam, high pressure sprayers or soap/water
Extensive color options on textured or smooth surface improves design flexibility
Class A or Class C fire-rating available
Color-matched moldings and fasteners available for easy installation
High impact strength
Low maintenance
Meets ASTM D-5319 standard specification for glass-fiber reinforced polyester wall & ceiling panels
Nudo FiberLite FRP Colors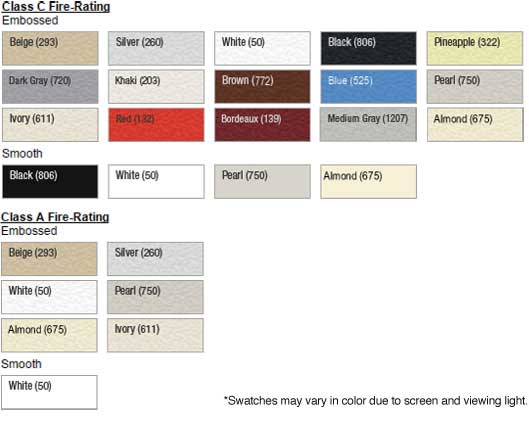 Nudo FiberLite FRP Affixing
Use of moldings and silicone sealant with panels is recommended to achieve a moisture resistant installation. Cut molding to size and place silicone sealant into channel of molding during installation. Place molding on panel before fastening and place small amount of silicone into hold before fastening. (Typical vinyl molding used with .090 FiberLite FRP V-1, V-3, V-5 and V-7.)
You should always apply 100% adhesive coverage to back of panel when installing Fiber-Lite FRP panels. Titebond adhesives are recommended. Refer to adhesive manufacturers guidelines for adhesive acceptable for use on drywall, plywood, OSB and gypsum walls, etc.
If using fasteners in combination with adhesive in high moisture areas, the use of non-corroding fasteners such as plastic pin rivets, chrome pin rivets, one piece nylon rivets, one stepper fasteners or screws should be considered. When installing with fasteners, always select proper size, they should be fit snug, but should not be over-tightened. Fasteners holes should be slightly oversized to allow for expansion and contraction.
Adhesive can be removed from panels surface by using mineral spirits or equivalent solvent based cleaners.
Affixing Notes:
FiberLite FRP panels should be adhered to a solid surface.
The first panel installed should be set true with a plumb line.
Check plumb line during installation.
Do not fasten the edges of the panel until the moldings are in place (except when using face mounted moldings.)
Fasten the panels at the center and work outward.
Fasteners should be staggered on opposite panel edges and next to division bar for a flat seam.
FiberLite FRP panels may be pre-drilled for fasteners installation using a guide panel.
Installation Tips:
Follow safety and fire guidelines during installation and use of panels. Compliance with local building codes is recommended.
Pre-condition panels prior to installation and allow for expansion and contraction during installation.
Use moldings, silicone, fasteners, and adhesive with panels for best installation.
Remove excess silicone during installation or trim after silicone is cured.
Place molding on panels, if required before fastening panels (ie. CAP, ISC, OSC, etc.).
Cut moldings as needed. For example, a division bar may need to be cut in accommodate a ceiling or base cover.
Cut panels, if required, for proper installation.
Use hold-down clips if panels are used in a suspended ceiling.
Span studs or joists only with proper thickness of panel.
Clean panels, if required, after installation.
Nudo FiberLite FRP Cleaning
FiberLite FRP panels are designed for minimum care and maintenance. When cleaning panels they should be washed with a light detergent. Panels may also be cleaning with steam, high pressure sprayers or soap and water.
A 5% or 10% Tri Sodium Phosphate water solution may also be used to clean panels. Rinse thoroughly after applying. Hard water deposits may be cleaned with a 10% solution of Acetic Acid in cold water. Rinse thoroughly after applying. It is strongly recommended not to use abrasive cleaners when cleaning panels.
| | | |
| --- | --- | --- |
| Title | Description | |
| | Fiberglass reinforced plastic panels, ideal for new or retrofit construction. | |
| | Fiberglass reinforced plastic panels, ideal for new or retrofit construction. | |
| | Fiberglass reinforced plastic panels, ideal for new or retrofit construction. | |
| | Fiberglass reinforced plastic panels, ideal for new or retrofit construction. | |
| | Fiberglass reinforced plastic panels, ideal for new or retrofit construction. | |
| | Fiberglass reinforced plastic panels, ideal for new or retrofit construction. | |
| | Fiberglass reinforced plastic panels, ideal for new or retrofit construction. | |
| | Fiberglass reinforced plastic panels, ideal for new or retrofit construction. | |
| | Fiberglass reinforced plastic panels, ideal for new or retrofit construction. | |
| | Fiberglass reinforced plastic panels, ideal for new or retrofit construction. | |
| | Fiberglass reinforced plastic panels, ideal for new or retrofit construction. | |
| | Division Bar for .090" Panel (.88" Face) | |
| | Nudo V-1 Cap for .090" Panels (.5" / .9" Legs) | |
| | Nudo V-5 Inside Corner and Cover for .090" Panel (.63" Cover/.70" Leg) | |
| | Nudo V-7 Outside Corner for .090" Panel (.5" Legs) | |