King Starboard® Provides Perfect Storage Solutions for Overlanding Vehicles
King Starboard® is an industry leader for extreme outdoor weather performance for marine industries and hobbyists. That's why it is no wonder that King Starboard® has now made its way into the "overlanding" community. Overlanding is defined as self-reliant overland travel to remote destinations, by vehicle, where the journey is the principal goal.
This means large loads over long distances, exposed to all nature has to offer. And with so much gear, overlanding vehicles require organizational systems that segment tools, enclose electronics, provide platforms for cooking, and various methods to keep everything safely secure.
Wood has been used for decades in the offroading community, but doesn't hold up well as a permanent solution. It swells and rots from exposure to the elements. It stains from muddy hands and boots. As an alternative, metal enclosures have helped with some of these problems, but come with their own sets of issues: metal heats up to untouchable and sometimes dangerous levels in direct sunlight, and adds unacceptable weight to an already demanding payload.
King Starboard®, sometimes referred to as plastic lumber, solves all these issues. It's resistant to UV exposure, salt water and a wide range of chemicals. Unlike other alternatives, King Starboard® doesn't splinter, crack, delaminate, rot, swell or absorb water. Even after decades, it remains virtually maintenance free.
It's also easy to machine, similar to wood and easier than metal. It can be cut, routed, shaped and drilled using common standard woodworking and shop tools. These superior properties, along with a competitive price point make it the perfect overlanding storage material.
Harley, a member of the group Overland Bound, recently shared his own custom King Starboard® storage solution on YouTube.
Harley took a 2010 Subaru Forester XT and turned it into an offroading, road-tripping, true overlanding rig. In the video below he talks about how the structure was created, and how it houses not only the basics, but a slide-out refrigerator, cooking station and even a sink!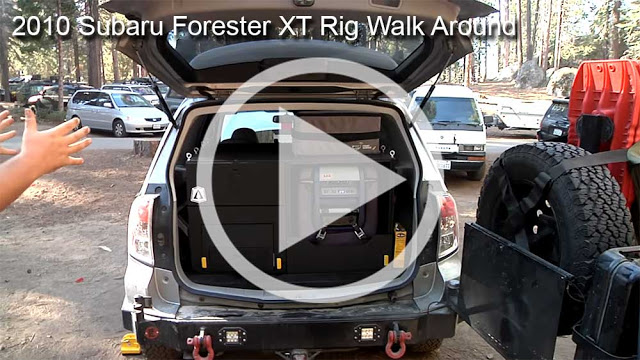 ---