PMMA Discs Provide Transparency, Biocompatibility for Oral Prosthetic Devices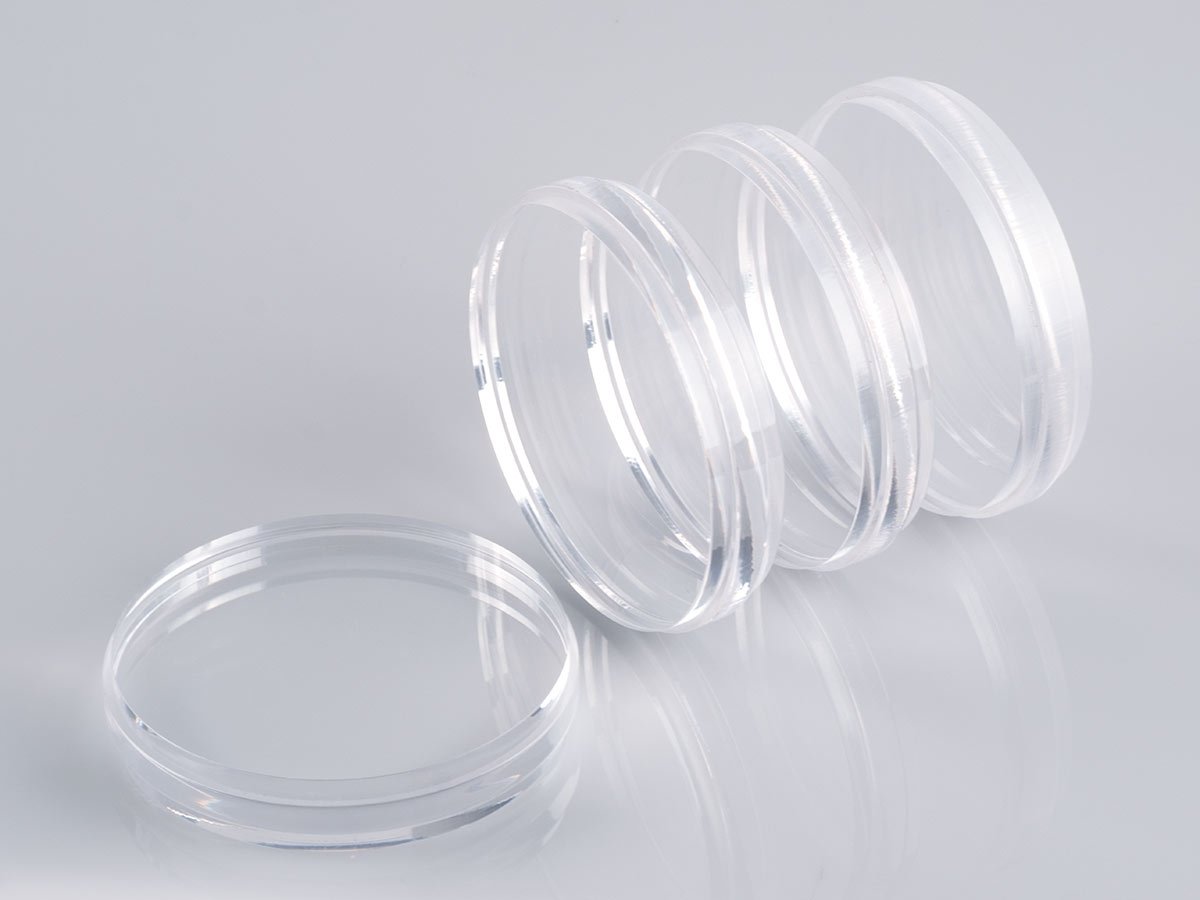 Biocompatible plastics offer a number of advantages for dental applications – they are generally more durable than metal, carry a reduced risk of allergic reactions compared to metal or latex, and can be more easily machined into custom shapes. These properties make biocompatible plastics like FDA compliant grades of acrylic an excellent fit for oral prosthetic devices such as occlusal splints, crowns, bridges, and dentures. Interstate Advanced Materials now carries FDA compliant biocompatible PMMA discs for machining oral prosthetic devices.
PMMA discs for dental milling machines are clear and impact resistant biocompatible dental materials. Like all PMMA/acrylic, the discs are lightweight and are easy to machine into the required shapes for dental prosthetics. Designed specifically for use in CAD/CAM dental milling machines, acrylic discs may be precision machined to match the exact dimensions of an individual's mouth taken from digital scans or impressions. Dental devices made from clear PMMA discs retain acrylic's attractive aesthetic and may appear almost invisible when worn due to its clarity and transparency.
FDA compliant acrylic discs for dental milling machines are primarily used by dental laboratories and dental manufacturers that utilize CAD or CAM machines to create dental devices. The milling process removes small amounts of material from the disc to create dental prosthetics, including occlusal splints, clear retainers, denture bases, crowns, and dentures that are then polished and finished to ensure a smooth and natural appearance.
Interstate Advanced Materials offers 16mm, 22mm, and 24mm clear biocompatible acrylic dental discs in 98mm and 98.5mm diameters. Save 30%+ on clear PMMA discs and other materials with an Interstate Advanced Materials membership. Ask a material expert about the benefits of biocompatible plastics like PMMA for dental device applications or learn more about the plastics used in dental equipment at (800) 742-3444.
Interstate Advanced Materials is a full-line distributor of sheet, rod, tube, bar, film, profile, and accessories, tools, and care products. With 10 locations nationwide and an online sales and support team, Interstate Advanced Materials provides full sheets and pallets, simple cut-to-size service, and complex CNC manufacturing. Interstate Advanced Materials is known for its reputation of selling high-quality products, providing excellent customer service, and superior technical support. Our products and services are available using the safe, secure, and convenient purchasing system on the Interstate Advanced Materials website. For instant help, we're always a phone call away at (800) 742-3444.
---