Polycarbonate Offers Safer, Lighter Alternative to Glass in Motorsports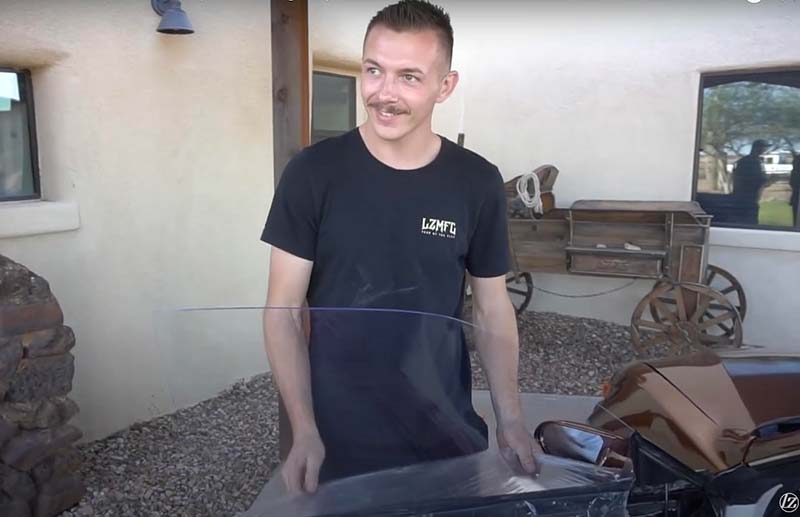 Polycarbonate sheet (also known by the brand name Lexan) is a transparent plastic frequently used in the automotive and motorsports industries because the material is shatterproof, lightweight, and virtually unbreakable while maintaining exceptional optical clarity. These properties make polycarbonate a safer, lighter alternative to glass windows in motorsports, race cars, and some consumer automotive applications.
Adam Lizotte-Zeisler is a Formula Drift driver who shares his automotive and BMX biking videos on his Youtube channel, Adam LZ. In a DIY video, Adam built a replacement window out of polycarbonate after one of his power windows shattered.
Having researched polycarbonate's use in performance automotive applications, Adam chose a 0.177" thick sheet of polycarbonate. "I don't want people breaking in and I don't want it to be freezing in here on the highway," Adam explained.
As a Formula Drift driver, Adam knew that his replacement window would need to be shatterproof and have strong impact resistance in order to deflect objects while driving at high speeds. In addition to safety, Adam also knew that polycarbonate would provide a modest performance boost as it is about six times lighter than glass.
Adam was impressed by the polycarbonate window, noting how it looked practically indistinguishable from the original glass window. Adam's ingenuity combined with dependable polycarbonate made the project a success. "I'm like beyond happy with it," he remarked.
For more information about polycarbonate and how to purchase the sheet used in Adam's project, call Interstate Advanced Materials today at (800) 742-3444 to talk with a material expert.
Interstate Advanced Materials is a full-line distributor of sheet, rod, tube, bar, film, profile, and accessories, tools, and care products. With 10 locations nationwide and an online sales and support team, Interstate Advanced Materials provides full sheets and pallets, simple cut-to-size service, and complex CNC manufacturing. Interstate Advanced Materials is known for its reputation of selling high-quality products, providing excellent customer service, and superior technical support. Our products and services are available using the safe, secure, and convenient purchasing system on the Interstate Advanced Materials website. For instant help, we're always a phone call away at (800) 742-3444.
---