Interstate Advanced Materials Receives IAPD Environmental Excellence Award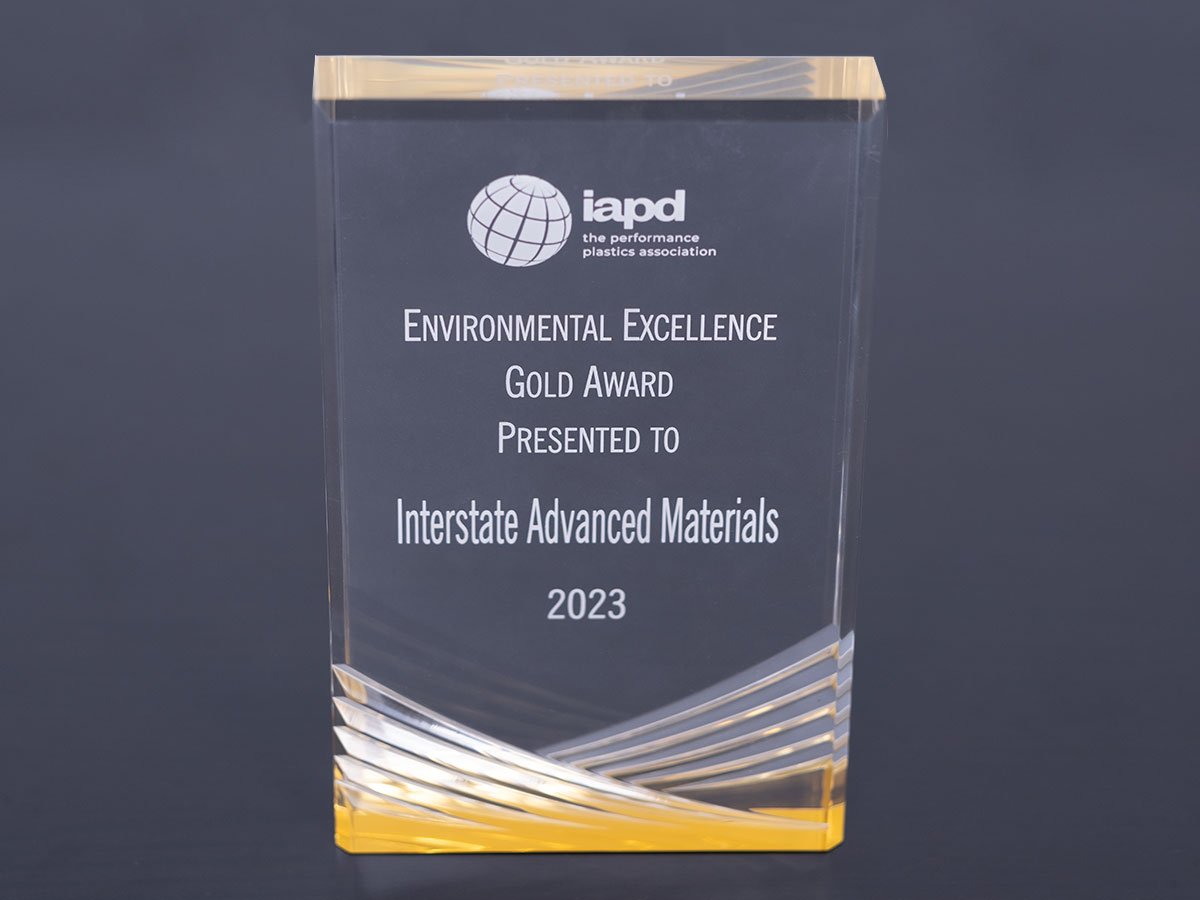 The International Association of Plastics Distributors presented Interstate Advanced Materials with the Gold Level Environmental Excellence Award at the 67th IAPD Annual Convention on October 24th, 2023.
The Gold Level Environmental Excellence Award is given to a select few companies that demonstrate their uncompromising dedication to fostering sustainability initiatives and driving positive change within their organization and the plastics industry.
In order to qualify for the award, companies must meet the standards established by IAPD's GreenScene program. To become a GreenScene member, organizations are required to prove their steadfast commitment to environmental stewardship and take proactive measures to develop and operate in a manner respectful to the natural environment.
Interstate Advanced Materials' sustainability mission acknowledges the importance of being the driver for changes it envisions within the industry. To that end, the company has launched its own initiatives which include an ongoing transition from conventional supplies to eco-friendly alternatives, the creation of compost-driven gardens to reduce landfill waste, and a continued shift towards energy-efficient lighting and fixtures.
Interstate Advanced Materials continues to uphold their company-wide commitment to sustainability and has designated sustainability advocates for all its branches. Advocates complete online certifications to gain the knowledge necessary to implement, manage, and ensure the success of current and future sustainability initiatives.
Interstate Advanced Materials is dedicated to sustainability beyond its own operations and seeks to help its partners and customers achieve their own sustainability goals. The company recognizes the collective responsibility of individuals and businesses toward the planet and continuously works to embrace initiatives crucial for a greener future.
To assist partners and customers looking to reduce their carbon footprint, the company has widened its selection of sustainable material options to include industry-first materials like Renovo-MPC™ and the Renovo™ sustainable product line available exclusively from Interstate Advanced Materials. The company's scrap recycling program allows businesses and individuals to drop off excess materials for recycling at Interstate facilities.
Interstate Advanced Materials' increasing dedication to achieving zero-landfill status by 2026 and its active efforts to minimize its carbon footprint position the company as a leader in sustainability within the material solutions industry.
Interstate Advanced Materials is a full-line distributor of sheet, rod, tube, bar, film, profile, and accessories, tools, and care products. With 10 locations nationwide and an online sales and support team, Interstate Advanced Materials provides full sheets and pallets, simple cut-to-size service, and complex CNC manufacturing. Interstate Advanced Materials is known for its reputation of selling high-quality products, providing excellent customer service, and superior technical support. Our products and services are available using the safe, secure, and convenient purchasing system on the Interstate Advanced Materials website. For instant help, we're always a phone call away at (800) 742-3444.
---