Interstate Plastics Announces Organizational Changes for Hayward and Des Moines Locations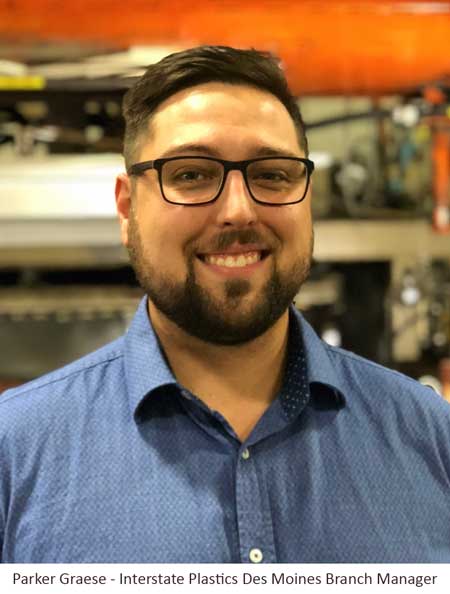 SACRAMENTO, California, May 16, 2019 — Interstate Plastics President Mark Courtright announced organizational changes to the Company's Hayward and Des Moines branches, with a focus on strengthening day-to-day operations and increased support for Bay Area semiconductor industries.
Pete Butcaris has been promoted to the Hayward Branch Manager, and is uniquely qualified to manage the Bay Area location and its heavy concentration of semiconductor-related businesses. Butcaris' expertise in high-performance plastics and extensive local knowledge in this field makes him the ideal selection to lead the facility forward.
David Gabay will transfer from the Des Moines branch and serve as Operations Manager for Interstate Plastics' Hayward location, supporting Butcaris with daily operations and continuing to build strong customer relationships and facilitate Bay Area growth. Gabay brings additional experience needed to support the staff as it continues to grow into its new and larger facility.
Parker Graese will take over the Branch Manager position for Des Moines. Parker has considerable experience in parts sales, management, and fabrication in the Iowa and greater Midwest region. He has previously worked in both Inside and Outside Sales, with a larger fabricator, and Sales Manager with a large Vacuum Former in the Midwest. His variety of experiences will help grow the value-added segment of the branch operations.
All implemented changes will be completed by the end of May 2019. Visit Interstate Plastics- Hayward at 30984 Santana St., Hayward, CA 94544, or contact the branch by phone at (510) 483-434. Visit Interstate Plastics Des Moines at 4355 112th Street, Urbandale, IA 50322, or contact the branch by phone at (515) 276-5145.
Interstate Plastics is a full-line distributor of plastic sheet, rod, tube, bar, film, and profiles, as well as plastic accessories, tools, and care products. With 10 locations nationwide and an online sales and support team, Interstate Plastics provides full sheets and pallets, simple cut-to-size service, and complex CNC manufacturing. Interstate Plastics is known for its reputation of selling high-quality products, providing excellent customer service, and superior technical support. All of our products and services are available using the safe, secure, and convenient purchasing system on the Interstate Plastics website. For instant help, we're always just a phone call away at (888) 768-5759.
---