Interstate Plastics' Nylon Materials Support a Wide Range of Power Transmission, Wear, and Machine Parts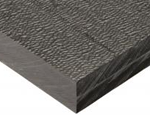 Interstate Plastics offers many grades of semi-finished Nylon plastic sheet, rod, and tube, suitable for wear applications, machine components, fasteners, and power transmission parts. From natural cast and extruded sheet to oil-filled and glass-filled grades, as well as FDA approved food grades, non-fibrous form nylon is used almost exclusively for mechanical purposes.
Nylon has served well in replacing many metals in mechanical applications, acting as perfect direct replacements for bearings and bushings, gears, machine screws, machinery parts, seals and gaskets, wear pads, wheels and rollers, circuit board hardware, and many other low to medium stress components. Nylon lasts longer than its metal counterparts and can be machined at a lower cost than most metals.
Nylon benefits from high strength, good rigidity, and dimensional stability. It is not damaged by oils, solvents, alcohols, moisture, solvents, and other chemicals. Molybdenum disulphide-filled (MD) and oil-filled nylon grades have enhanced wear and mechanical properties. Heat stabilized grades withstand higher operating temperatures. Glass-filled nylon is used for parts that require high stiffness, high heat distortion temperature, and low abrasive wear.
Nylon is commonly considered in applications where noise reduction and the elimination of external lubrication are important factors, as well as in highly corrosive and wet environments. Automotive, food packaging and cookware, circuit board, food processing, consumer product, mining, and wastewater treatment industries all greatly utilize nylon; nearly any low to medium stress industrial and commercial systems can incorporate nylon for less energy waste to heat, longer part life, and lower maintenance costs.
For more information on nylon solutions, contact Interstate Plastics at (888) 768-5759.
Interstate Plastics is a full-line distributor of plastic sheet, rod, tube, bar, film, and profiles, as well as plastic accessories, tools and care products. With 10 locations nationwide and an online sales and support team, Interstate Plastics provides full sheets and pallets, simple cut-to-size service, and complex CNC manufacturing. Interstate Plastics is known for its reputation of selling high-quality products, providing excellent customer service, and superior technical support. All of our products and services are available using the safe, secure, and convenient purchasing system on the Interstate Plastics website. For instant help, we're always just a phone call away at (888) 768-5759.
---