Interstate Plastics Offers PEEK for Aerospace, Automotive, & Electrical Application Solutions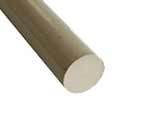 PEEK (Polyetheretherketone) plastic provided by Interstate Plastics is a stiff thermoplastic with exceptional thermal stability as well as chemical and fatigue resistance. PEEK is often used in applications where performance at extreme temperatures is necessary. Parts made from PEEK are lightweight, strong, tough, fully recyclable, and able to stand up to harsh chemical and electrical environments.
Industries reliant on PEEK include electrical and semiconductor, aerospace, automotive, structural, and biomedical, generally when stringent requirements and regulations must be met. Typical applications include bearings, piston components, pumps, compressor parts, valves, cable insulation, and high-performance liquid chromatography. Other materials considered in applications where PEEK excels include PPS, PES, and some fluoropolymers such as PTFE and FEP.
In comparison to fluoropolymers, PEEK exhibits better tensile strength, bonding ability, as well as a higher heat deflection and operating temperature. This generally comes at the cost of less chemical resistance, toughness, UV weathering, and higher cost. PEEK has better thermal resistance than PPS plastics. In comparison to PES plastics, PEEK exhibits higher wear, chemical, and fatigue resistances as well as a higher operating temperature.
In aerospace applications, PEEK is generally used as an aluminum and general metal substitute. The ability of PEEK to be machined with precise tolerances alongside its heat resistance and low friction properties makes it ideal for crucial engine parts, especially where dry and lubricated materials come into contact. PEEK also offers high resistance to rain erosion for exterior aircraft components. Inside, inherent flame retardant properties and low smoke and toxic gas emissions make PEEK a safe choice for protecting wiring and electrical systems.
The automotive industry utilizes PEEK in piston applications and for fabricated seals, washers, bearings, active components, and other parts in vehicle transmissions, brakes, and air conditioning systems. This is especially true in high-performance applications where weight and noise reduction are essential. PEEK has also led to increased performance and efficiency in the miniaturization of engine components.
An excellent insulator, PEEK is ubiquitous to electrical and electronics industries. Its low moisture absorption and high chemical, wear, thermal, and static resistance properties lend PEEK well to semiconductor wafer manufacturing. It is integral to many structural parts in electronics, telecom equipment, and integrated circuit test sockets.
PEEK applications continue to expand as its unique mechanical properties are recognized and as new grades are made available, most in relation to metal replacement in industrial, chemical, and processing operations. Ask a representative about enhanced grades, including glass-filled PEEK, and find out how Interstate Plastics can provide your solutions in plastics by calling (888) 768-5759.
Interstate Plastics is a full-line distributor of plastic sheet, rod, tube, bar, film, and profiles, as well as plastic accessories, tools and care products. With 10 locations nationwide and an online sales and support team, Interstate Plastics provides full sheets and pallets, simple cut-to-size service, and complex CNC manufacturing. Interstate Plastics is known for its reputation of selling high-quality products, providing excellent customer service, and superior technical support. All of our products and services are available using the safe, secure, and convenient purchasing system on the Interstate Plastics website. For instant help, we're always just a phone call away at (888) 768-5759.
---