Interstate Plastics Presented With IAPD Award for Environmental Excellence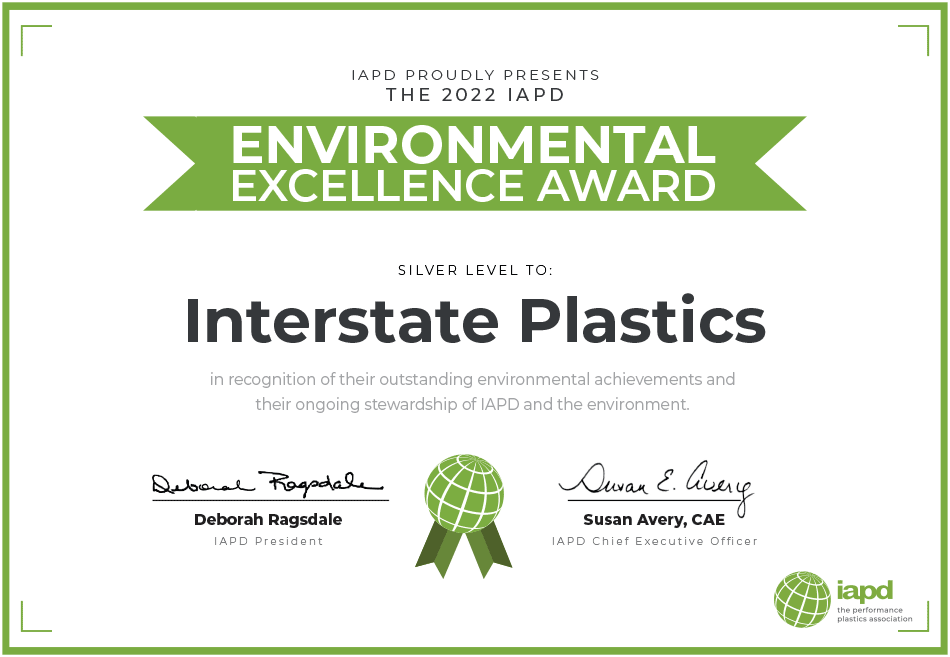 The International Association of Plastics Distribution (IAPD) recognized Interstate Plastics with its Silver Level Environmental Excellence Award on September 8th, 2022.
The Environmental Excellence Award is presented to a few select companies that are able to demonstrate their ongoing commitment to sustainability through changes and initiatives that align with the association's high standards.
In addition to the award, Interstate Plastics continues to be a proud member of the IAPD GreenScene™ program, which recognizes members that implement more environmentally sustainable practices in their daily operations, and helps companies raise their environmental stewardship to the next level.
Adhering strictly to its sustainability mission, Interstate Plastics understands that it is the company's own responsibility to push for the change that it wants to see in the industry. Current initiatives include building gardens with in-house compost to reduce landfill waste and cutting paper usage to reduce the company's carbon footprint.
Interstate Plastics emphasizes high importance into making sure that there is consistency in sustainability efforts company-wide. To streamline these efforts, Interstate Plastics is training sustainability advocates for all of its branches by having designated team members complete online certifications.
With the goal of reducing outside environmental impact, Interstate Plastics has been challenging itself to develop more sustainable materials. Interstate Plastics is proud to have introduced the first fully sustainable, closed loop, 100% recyclable polycarbonate sheet.
From finding ways to reduce waste internally, to helping its partners and customers do the same, the Interstate Plastics team understands the individual and company responsibility to the planet, and is continually pushing itself to adopt more environmentally sustainable initiatives that are needed to promote a greener future for the industry.
Interstate Plastics' commitment to becoming a zero-landfill company by 2026 and reducing its carbon footprint makes it a leader of sustainability in material solutions.
Interstate Plastics is a full-line distributor of plastic sheet, rod, tube, bar, film, profile, and plastic accessories, tools, and care products. With 10 locations nationwide and an online sales and support team, Interstate Plastics provides full sheets and pallets, simple cut-to-size service, and complex CNC manufacturing. Interstate Plastics is known for its reputation of selling high-quality products, providing excellent customer service, and superior technical support. Our products and services are available using the safe, secure, and convenient purchasing system on the Interstate Plastics website. For instant help, we're always a phone call away at (916) 679-5146.
---