Leister Hosts Certification Classes with World's Leading Plastic Welding Experts
Save 50% on registration with the purchase of an extrusion welder!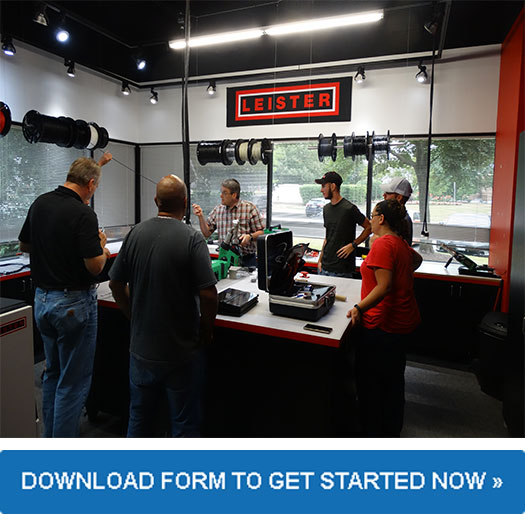 Leister Technologies LLC, the worldwide leader in hot gas plastic fabrication tools and equipment, is set to host DVS (German Welding Society) training and certification classes on October 14th through 18th and October 21st through 25th at Leister's U.S. headquarters in Itasca, Illinois. Participants can save 50% on the cost of registration with the purchase of an extrusion welder.
In addition to general welding instruction and best practice classes, DVS certification will be available for speed welding and extrusion welding. DVS, the German Welding Society, is a technical-scientific non-profit promoting welding and allied processes for the benefit of the general public. DVS sets standards for plastic welding research and development, training, examination, and certification. The Society trains more than 150,000 people per year, and their certifications are widely recognized in fields and industries where welding work is required on thermoplastic materials for new products and repairs.
The manager of Plastics Engineering at the Aachen University Chamber of Craft and Trades in Aachen, Germany, will be conducting the training. Founded in 1870, Aachen University is one of the premiere technical, scientific, and research institutions in the World. Topics covered will include the structure and physics of thermoplastics, hot air tool handling and set-up, as well as hot gas welding processes for speed welding and extrusion welding.
Optional laboratory examination and destructive testing will be provided for DVS certification. Speed Welding Certification (DVS 2212 subgroup I-5) and Extrusion Welding Certification (DVS 2212 subgroup II-1.1) will go further in-depth on subjects including portable extrusion and high-speed hot-gas welding. Training will instruct on the differences in technique between varying common materials. Seats are very limited and will be reserved on a "first come, first served" basis. Download the signup form!
---