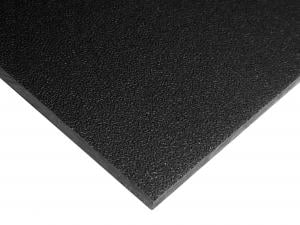 | | |
| --- | --- |
| | MouseOver to Zoom. |
You Might Also be Interested In

Kydex® T Sheet - Cadet Blue #42000

Kydex® Sheet - Coyote Brown

Kydex® T Sheet Sheet - Olive Drab

IPK (Kydex) - Printable Thermoforming Sheet
Kydex® T Sheet - Calcutta Black
Acrylic-polyvinyl chloride / Thermo-forming Sheet

4

stars based on

11

Review(s)
Get Your Online Pricing:
Tips for measuring »

How To Measure |

Close it

Using a measuring tape

Here's a little refresher on how to use a measure tape. First, let's talk about the increments. We'll assume that you're using the English or Imperial system of feet and inches. Extend your tape measure several inches and find the large 1 and 2. On most English measuring tape, the smallest increment is 1/16 of an inch. This means that there are 16 equally spaced marks between 1 and 2 inches on the tape. When measuring, count how many of these marks you are beyond the nearest inch. If your piece measures 7 inches and other 8 marks, that is 8/16 (1/2) for a total of 7-1/2".Let's say you were taking your second measurement (see below) and this time you counted 9 marks past the 7 inch mark. That means your piece is actually 7-9/16" long.

The clip on the end of my measuring tape slides back and forth. Is it broken?

No! The sliding clip on the end of the tape is designed for two different types of measurements. When you take an outside measurement (where you hand the clip of the tape over an edge), the clip slides out a little to account for the thickness. When you take an inside measurement (push the clip up against a surface), the clip slides in, again accounting for its thickness. The measuring tape self-adjusts so, either way, you get an accurate measurement.

Measure Twice, Cut Once

Once we cut a stock size piece, we can't ever sell it as full size piece again. So, PLEASE MEASURE CAREFULLY, and DOUBLE CHECK YOUR MEASUREMENTS BEFORE YOU ORDER. The old adage is espcially true here: measure twice, cut once. WE do it before we cut your piece, and YOU should do it before you order.
KYDB0T1 - Overview



Kydex® sheet is an extremely durable Acrylic-PVC alloy extruded in a range of colors, textures, and patterns. Kydex® thickness ranges from .028 to .250 and full sheets are available in 48" x 96" and 48" x 120 ft rolls. Kydex® can be thermoformed, post formed, brake formed and laminated.



Features


Superior formability, fabrication and tooling quality makes Kydex® the best choice for countless projects. Using standard tools, Kydex® sheets can be drilled, brake formed or punch pressed. Kydex can reduce the number of individual parts needed in many applications, thereby reducing assembly costs. Kydex applications range from aviation and transit interiors, medical equipment and building interiors to furniture and fixtures. Kydex can be used as protection from electrical shock and has multiple equipment housing applications for tools such as electrical welders that require durability and high impact strength. No other thermoplastic sheet stands up to impact, scratches, and gouging like Kydex®.

Common Applications

• Gun holsters and knife sheaths
• Thermoformed equipment housings
• Flat laminated panels of all types
• Kickplates and pushplates
• Exhibits and kiosks
• Aircraft, bus, automotive, and train interior parts
• Membrane pressed components
• Work stations
• Pedestals and stands
• Furniture components

Cleaning Kydex

Kydex® is very easy to clean: tough stains, scuffs, and graffiti can be removed using strong cleaners with no staining or surface damage to the material. Kydex® sheet will retain its original beauty with routine cleaning and care. To ensure that your part maintains its original appearance, use mild soap and lukewarm water to remove light dirt. To remove heavier dirt or grease from texture valleys, a short stiff bristled brush should be used to loosen the debris and oils followed by a water rinse.
| | | | |
| --- | --- | --- | --- |
| | | | |