Interstate Plastics Birmingham, Alabama Grows to Add Services in the Southeast
BIRMINGHAM, Ala., April 16, 2014 -- The Interstate Plastics branch in Birmingham, AL spans 23,000 square feet in two operations offering a wide range of niche and commodity plastics including a full line of cut-to-size sheets, rods and tubes.
Interstate Plastics offers value added services such as routing, beveling, counter sunk holes, hole drilling, and others processes upon request. Birmingham has advanced polycarbonate and acrylic bending capabilities with cosmetic polished edges, and no bubbles or distortion. Birmingham's comprehensive line of machinery includes a computerized panel saw, table saws, a CNC router, drill presses, and other specialized equipment.
"With a customer base that extends across multiple states," Brett Olson explained, Interstate Plastics' new acting manager, "Birmingham has focused on specializing in a wide array of industries. The branch supplies quality plastics to conveying manufacturers for the poultry and food processing industry, various medical OEM's, and dunnage and fixtures for the automotive industry. Many application specific services are available for machine shops, acrylic fabricators, POP (point of purchase) displays, waste water, textiles, and much more. From gaskets and seals to medical and FDA approved applications, the Birmingham branch has grown to service virtually every plastic application found in the region."
Interstate Plastics - Birmingham is located in Pelham, AL, near Interstate 65 for easy will calls. Also, a full service delivery box van is available to ship products right to your facility. Birmingham area customers can call (205) 620-9500 or order online at https://www.interstateplastics.com.
Interstate Plastics is a full-line distributor and manufacturer of plastic sheets, rods, tubes, films, bars, and profiles, as well as plastic accessories, tools, and care products. With 10 locations nation-wide and an online sales and support team, Interstate plastics provides full sheets and pallets, simple cut-to-size, and even complex CNC manufacturing. Interstate Plastics is known for its reputation of selling high quality products, providing excellent customer service, and superior technical support. Interstate Plastics proudly serves many diverse industries including semiconductor, medical, aerospace, food processing, POP display, government, and automotive to name a few; and would be pleased to serve you. This is the very foundation of Interstate Plastics and has been for almost thirty five years.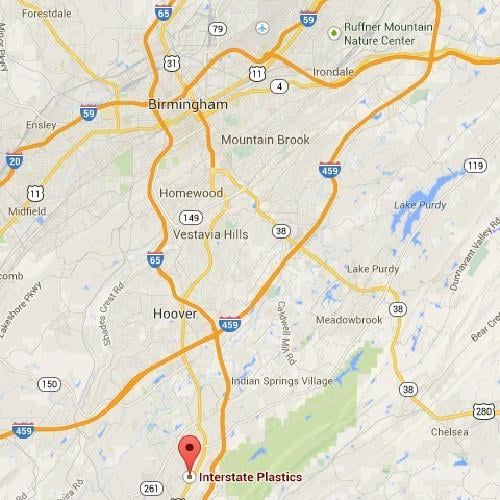 ---