POL3U9 - Overview



SunSky corrugated polycarbonate turns night into brilliant daylight, transforming factories, assembly lines, agricultural buildings, and livestock shelters into well-lit areas that reap the benefits of natural sunlight.

SunSky is compatible with popular metal panel profiles, making it a perfect choice for seamless skylights, roof lights, and sidelights. Durable SunSky has had no mechanical failures or cracks at the end of any test to measure ultimate load when tested to ICBO Evaluation Service Acceptance Criteria, AC 16 Plastic Skylights.

This high-performance glazing material stands up to punishing exterior applications, offering many advantages over traditional fiberglass corrugated panels: up to 20 times greater impact resistance, the highest light transmission rates, the lowest yellowing index, the highest load rating, and the highest resistance to wind uplift-outstanding properties confirmed in accredited laboratory testing.



Features

Matches virtually any profile
Virtually unbreakable
Self extinguishing
Resistant to yellowing
Retains optical clarity with high light transmission
Can handle extreme climates (-40°F to 250°F)
Easily and safely installed
ICC-ES Approved
SunSky Soft White Reduces Energy Costs & Increases Productivity
Soft White spreads light and reduces harsh shadows and glare, providing 100% diffusion and 85% light transmission. This allows light to fill rooms without unpleasant glare or stark, hard-edged shadows. Soft White SunSky's diffused, omnidirectional ambient light, creates a comfortable, worker-friendly environment for enhanced productivity. SunSky is perfect for skylights, ridge lighting and vertical sidelights, all of which can decrease energy costs by reducing the need for daytime electric lighting. And the Soft White coloration is co-extruded within the panel, so it will never peel or wear off.
Radiation Filtering: SunSky panels form a complete shield against harmful ultraviolet rays, while admitting most of the visible light, essential to healthy livestock and work environments. By completely blocking the far infrared rays, SunSky prevents heat loss at night. SunSky blocks both UV-A and UV-B, which prevents damage to items located underneath the panels due to UV exposure.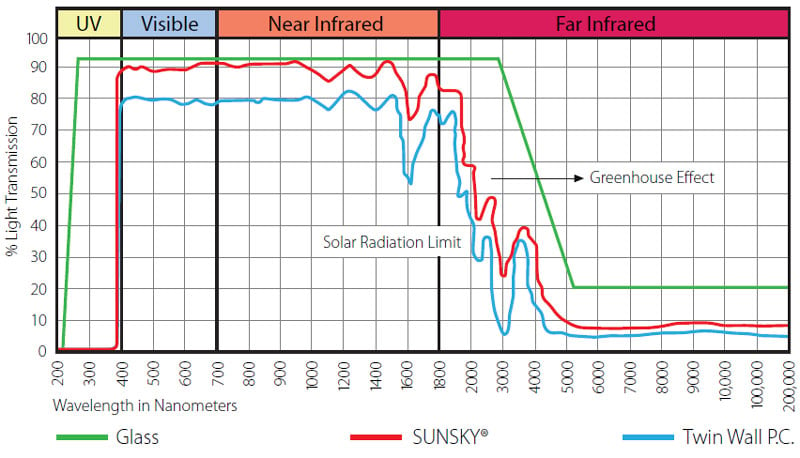 Thermal Insulation & Light Transmission: SunSky's heat conductivity is lower than fiberglass (FRP) sheets, which can result in considerable heating cost savings, compared to fiberglass.
SunSky Color

Light Transmission

Solar Heat Gain
Coefficient (SHGC)

Shading Coefficient (SC)

Diffusion

Clear

90%
0.90
1.04
n/a

White Opal

45%
0.51
0.59
100%

Soft White

85%
0.85
0.98
100%
Superior Weathering: With a built-in co-extruded UV blocking layer, SunSky maintains its light transmission and physical properties while being resistant to yellowing. Arizona climatic exposure tests and accelerated QUV tests indicate a significant advantage of SunSky over competitive products such fiberglass.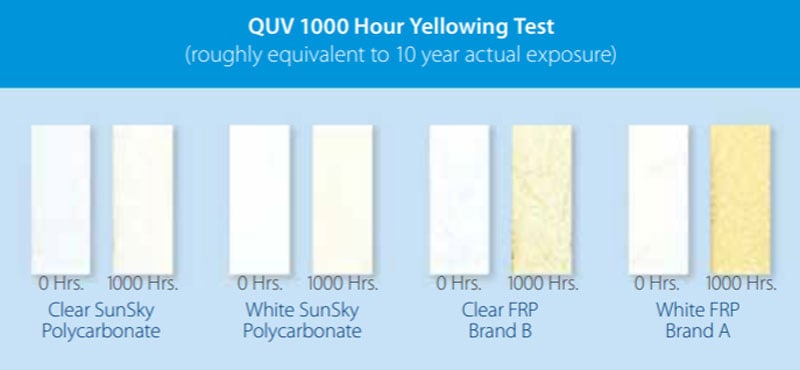 Material Warnings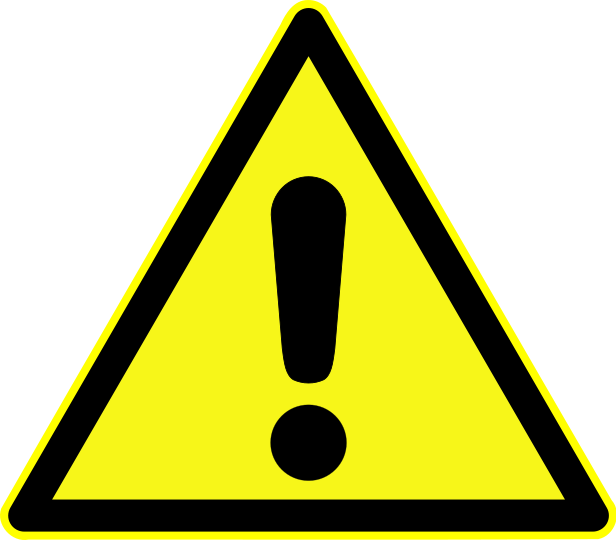 WARNING: This product can expose you to chemicals including Bisphenol A, CAS 80-05-7 , which are known to the State of California to cause birth defects or other reproductive harm. For more information go to www.P65Warnings.ca.gov.

Disclaimer: Interstate Plastics makes no representations about any of its products that are modified in any way after they leave its possession, nor do its representations apply when any of its products are improperly used or stored. Each customer of Interstate Plastics bears full responsibility for making its own determination as to the suitability of each material, product, recommendation or advice provided by Interstate Plastics. Each customer of Interstate Plastics must identify and perform all tests and analyses necessary to assure that its finished parts incorporating materials from Interstate Plastics will be safe and suitable for use under end-use conditions.