Leister Certification Classes Offer Hands-On Training for the Most Popular Extrusion Welders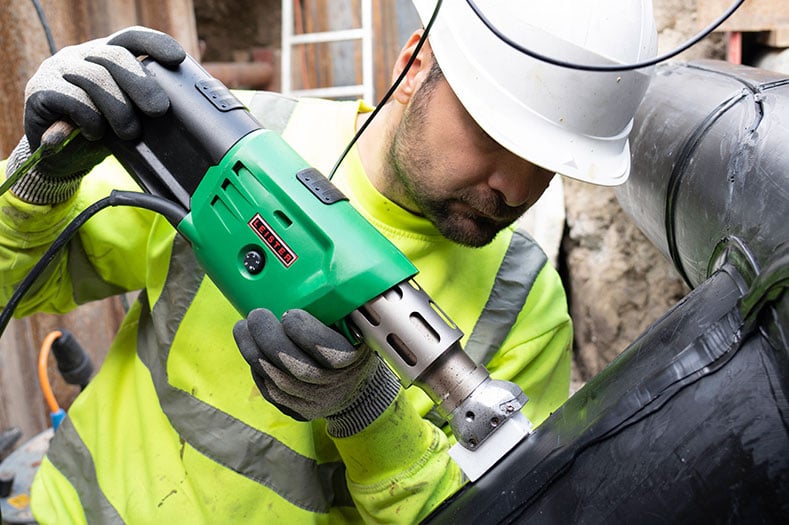 Leister's first week of DVS (the German Welding Society) Plastic Welding Training and Certification classes are entirely sold out, and second-week classes are filling quickly. Those wishing to expand their extrusion welding skills and knowledge with instructions from the most qualified experts in the world may still sign up for week two classes, from October 21st through 25th at Leister's U.S. headquarters in Itasca, Illinois.
Renowned as the worldwide leader in hot gas plastic fabrication tools and equipment, Leister is hosting DVS to train participants in advanced plastic welding techniques, to enhance their plastic welding skills and techniques.
Participants come from a wide range of industries that utilize plastic welding and hot air processes including semiconductor and wet bench industries, roofing, technical textiles and industrial fabrics, geo- and civil engineering, plastic fabrication, flooring, and interior decoration, automotive, medical, electronic, and hot air processes including shrinking, varnish and paint removal, sleeving, as well as forming and shaping.
Leister sells nearly forty hot air tools, from hand tools, blowers, and extrusion welders to automatic welders, grooving devices, and full welding machines. Leister Plastic Welding Training and Certification classes will focus primarily on extrusion welders, offering certifications in speed welding (DVS 2212 Sub Group I-5) and extrusion welding (DVS 2212 Sub Group II-1.1).
The Weldplast and Fusion series extrusion welders are Leister's most popular and come in a variety of form factors and with different features to accomplish any task.
Leister Weldplast Series (S1, S2, S2 PVC, S2 TPO, S4, S6, 200-i, and 600-i):
The Leister Welsplast S1 is a compact extrusion welder that achieves perfect seam quality with plate thicknesses of 4 to 12 mm and a maximum output power of 1.8 lbs. per hour and up to 2.5 lbs. per hour for PVC. Its double-sided, twist-free wire intake can work with 3 to 4 mm welding rod, and integrated LED lighting with an innovative operating panel allow for easy monitoring of welding with all compatible materials (including PE, PP, PVC, PA, PVDF, and ECTFE). The Leister Welsplast S1's ergonomic design offers several grip positions and holding options, and allows the user to work in comfort in areas that are difficult to access.
The Leister Weldplast S2 is a handy-sized extrusion welder with the same benefits of the S1 but puts out 4.4 lbs. per hour of extrudate and can weld TPO materials without difficulty. The S2 PVC was designed to satisfy the high requirements of PVC extrusion welding and features integrated corrosion protection.
Leister's even more powerful Weldplat S4 is the first extrusion welder of its kind with a brushless, maintenance-free motor for generating preheated air. The S4 has an output of up to 8.8 lbs. per hour thanks to an extremely robust and high-powered drive system.
The Weldplast S6 is the world's highest-rated handheld extrusion welder, putting out an impressive maximum 13.2 lbs. per hour. The S6 is surprisingly maneuverable and like the S4, features a brushless, preheat motor. It has a multifunction display and comfortable ergo-grip, making the Weldplast S6 Leister's flagship extrusion welder.
Leister's automated continuous operation Weldplast 200-i and Weldplast 600-i are two different extruder modules designed for robotic extrusion welding or large-scale 3D printing. The two modules are designed to allow both simple and fully automated expansion. They can be mounted on robots or integrated in machines and are customizable to meet requirements for welding HDPE, LDPE, PP, PVC-U, PVC-C, PVDF, ECTFE, ABS, PC, PA, PS, and PUR plastics.
Leister Fusion Series (Fusion 1, 2, 3, and 3C)
The Leister Fusion series offers astonishingly simple extrusion welding. At 7.5 lbs., the reduced design of the Leister Fusion 1 offers increased maneuverability. An optimally mountable handle provides even more flexibility in small spaces. Fusion series welders can also be mounted or suspended for effortless one-handed welding of ABS, nylons, PBT, polycarbonate, polyethylenes, PEEK, acrylic, polypropylene, PPS, PTFE, TPE, and much more!
The Leister Fusion 2, at only 17.7 inches and outputting up to 4 lbs. per hour, is the shortest tool in its performance class. Simple operation and first-class welding quality have made the Fusion 2 a breakthrough product. The Fusion 2 features motor start-up protection that prevents cold start and dual-sided, twist-free wire intake, as well as a 360-degree rotating welding shoe. Its integrated electronics allow for stepless adjustment of preheat temperature and output quantity.
With many of the same great features as the Fusion 2, the Fusion 3 enables comfortable work, even on the floor, with a long and narrow shape and an astounding output volume of up to 8 pounds per hour. The Fusion 3C offers the same excellent output with a slightly shorter profile of 23.2 inches compared to the Fusion 3's 26.3-inch length.
Sign Up Before Classes Are Full!
Purchase any of these world-class extrusion welders and receive 50% off DVS tuition. Receive an additional 50% for each additional class signup. Seats are limited and will be reserved on a "first come, first served" basis, so act today: week one classes are already sold out! Download, fill out, sign and submit the signup form to get started.
For additional information, assistance signing up, or to find out which extrusion welder would work best with your specific application, contact Interstate Plastics at (888) 768-5759.
For 70 years now, Leister Technologies AG has been a market and technology leader in the areas of polymer welding devices and modules for industrial process heat. The Leister brand is world-renowned for high-quality products with sophisticated technology.
---