This UHMW Workbench is the Perfect Solution for Working With Epoxy Resin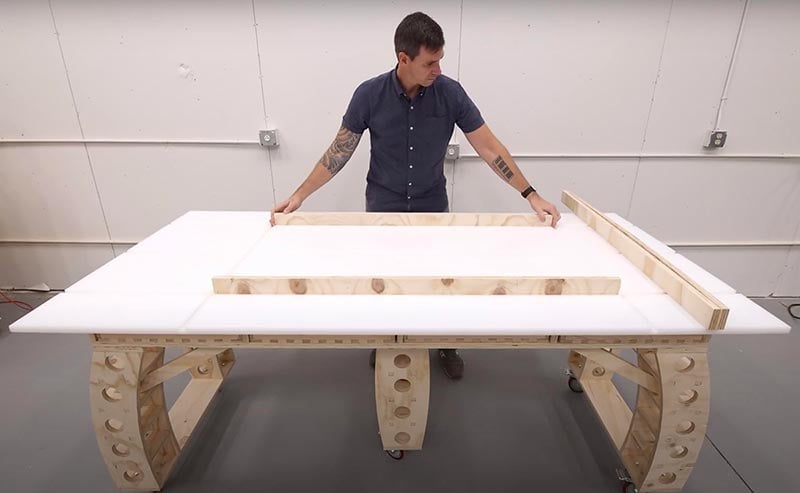 UHMW-PE (Ultra High Molecular Weight Polyethylene) sheet is an ideal countertop material for working with epoxy resin because the resin will not stick to the sheet when left to cure. Epoxy resin is used in diverse applications from adhesives for construction repairs to paint in art projects. Working with epoxy on the correct surface is essential because the resin is extremely strong and will adhere to most materials.
Jonny Lambert is a craftsman who uses epoxy resin in his household projects and shares his creative works on his Youtube channel Jonny Builds. In a recent video, Jonny constructed a workbench tailored to pouring epoxy for his epoxy molding projects.
Jonny wanted a table that he could quickly move around his workroom. He chose pine plywood for the base to keep the structure relatively light. He contemplated whether to use UHMW or HDPE for the workbench's countertop early in the design process, as both materials have excellent chemical resistance, durability, and machinability. He ultimately decided on UHMW because the material's more rigid surface would prevent epoxy resin from sticking to undesired areas of the workbench.
UHMW's hard surface makes it reusable in epoxy-pouring applications and a more cost-effective and sustainable choice than the single-use melamine sheet Jonny had previously used.
UHMW proved an excellent match for Jonny's workbench project: its durability, chemical resistance, and low moisture absorption, combined with Jonny's exceptional planning, produced an effective solution against epoxy's stickiness.
To learn more about UHMW and purchase the sheet used in Jonny's project, call Interstate Advanced Materials at (800) 742-3444.
Interstate Advanced Materials is a full-line distributor of sheet, rod, tube, bar, film, profile, and accessories, tools, and care products. With 10 locations nationwide and an online sales and support team, Interstate Advanced Materials provides full sheets and pallets, simple cut-to-size service, and complex CNC manufacturing. Interstate Advanced Materials is known for its reputation of selling high-quality products, providing excellent customer service, and superior technical support. Our products and services are available using the safe, secure, and convenient purchasing system on the Interstate Advanced Materials website. For instant help, we're always a phone call away at (800) 742-3444.
---