Interstate Plastics Provides Materials Vital to Semiconductor Industries & Applications
Interstate Plastics prides itself on providing high-performance plastics to the semiconductor industry. With some of the most stringent requirements of any industry, Interstate Plastics offers plastic sheet, rod, and tube that prevent fire, smoke damage, and other particulate contamination in semiconductor cleanrooms and other processes.
In semiconductor, wet bench, and computer chip manufacturing, producers look to low flammability plastics that allow for the partitioning of cleanrooms, separating various processes from each other and ensuring that damage from fire or smoke can be minimized and contained. The FM 4910 (Cleanroom Materials Flammability Test Protocol) standard was created to identify materials that produce less smoke and by-products that could contaminate adjacent processes. And UL 94 V-0 (Standard for Safety of Flammability of Plastic Materials for Parts in Devices and Appliances) classifications identify plastics that stop burning within 10 seconds after being ignited.
Interstate Plastics offers both FM 4910 compliant and UL 94 V-0 classified high-performance materials to meet these demands, with service temperatures ranging from 140F to 425F. Translucent PFA-M plastic, made from tetrafluoroethylene and perfluorinated methyl vinyl ether, is the ultimate choice for a high service temperature, flame retardant sheet. Due to its excellent stress crack resistance and smooth surface, PFA-M ensures the lowest possible decrease of pressure in an enclosed system, as well as reduced caking of solids and improved ease of cleaning.
LAM CPVC and Polypropylene flame retardant sheet can be utilized at a more cost-effective price point in slightly less demanding applications, and is perfect for electrical enclosures and doors, insulating panels, equipment exposed to acids and bases, chemical storage, transfer tanks, and other scientific equipment. Interstate Plastics carries LAM 2000 CPVC in a transparent blue color, perfect for viewing windows in valve boxes, wet bench enclosures, and other applications where glazing is needed. Due to its ASTM E-84 Class A (a standard test method for surface burning characteristics) rating, LAM 2000 CPVC is also used as partitions for data centers.
While many FM 4910 approved materials also meet UL 94 V-0 classification, the opposite is not always true. Halar ECTFE 901 sheet has the best service temperature available (300F) for a material that fits both FM 4910 and UL 94 V-0 classifications. Call one of our plastic specialists today to find the ideal combination of shielding, insulating, and heat resistant properties for your budget and application.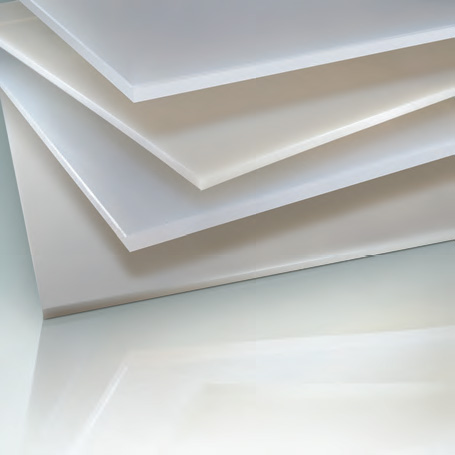 Interstate Plastics is a full-line distributor of plastic sheet, rod, tube, bar, film, and profiles, as well as plastic accessories, tools and care products. With 10 locations nationwide and an online sales and support team, Interstate Plastics provides full sheets and pallets, simple cut-to-size and complex CNC manufacturing. Interstate Plastics is known for its reputation for selling high-quality products, providing excellent customer service, and superior technical support.
---